Calliope Magazine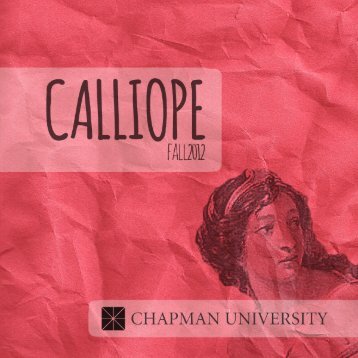 In Greek mythology, Calliope was the eldest of the Muses, goddesses of dance, music, and song. As the goddess of epic poetry, Calliope would grant her gift to kings and princes––most known for inspiring Homer to write The Illiad and The Odyssey. She is commonly depicted wearing a gold crown and holding a scroll or book in one hand, representing her eloquence as well as her love for the written word.
Chapman students of all levels and majors are invited to submit their work. Calliope editors and board members are graduate and undergraduate students who apply for the job each preceding academic year.
Robert Julius
Robert Julius is a senior Creative Writing and French major at Chapman University, though he is native to Pittsburgh, Pennsylvania. Robert's work has been published in Calliope Art & Literary Magazine, as well as FIVE Poetry Magazine and The Indiana Review: Online. Recently, he presented at Sigma Tau Delta's 2016 International Conference in Minneapolis. There, his work was awarded 3rd place for Original Poetry. Robert also works as an editorial board member for Calliope. He looks forward to working in the publishing industry, teaching, or spending the rest of his life writing and meditating in solitude in the Rocky Mountains… whichever ends up having the strongest pull on him.
Caitlyn Cook
Caitlyn Cook is a freshman Creative Writing major who indulges in writing slam poetry, free verse, and short fiction. After performing in Speech and Debate state and nationwide, a passion for public speaking and horror have developed in her life.
Ellen Webre
Ellen Webre is a senior majoring in Screenwriting and minoring in Anthropology and Asian Studies. She is a dream-wrought poetess who has been featured at The Ugly Mug, Coffee Cartel, and Mosaic poetry readings. Her taste ranges from the mystic spirituality of the Sufis to the sensual verse of magical realists. The world full of glittering darkness and beauty, and she likes absorbing it all. Ellen enjoys reading, photography, and writing for FangirlNation Magazine.